CLARITER THROUGH THE EYES OF ITS FEMALE LEADERS
March 8th, 2021
International Women's Day highlights an aspect of Clariter that makes the company proud and represents the core of its identity – equality. 1:1 gender parity for top management is rare in the petrochemical industry, but it comes standard at Clariter.
Clariter is an international clean-tech company that has created a technology that provides a large-scale solution for the world's plastic waste problem and an innovative business model that paves the way for the Circular Economy. Unlike the majority of the recycling industry, which focuses on recycling plastics mechanically, Clariter recycles chemically. The company does not recycle plastic into new plastics, energy or fuel, Clariter ends the life of plastic. Its patented 3-step chemical process upcycles plastic waste into sulphur-free, odourless, and pure industrial "ready-to-use" product families: aliphatic solvents, white mineral oil, and paraffinic snow-white waxes. The footprint of Clariter's products is net carbon negative and preferable to landfill, incineration, and also to pyrolysis-based solutions. 
At Clariter, women are represented at each level – from process operators to top management. Both of Clariter's facilities: Pilot Plant in Gliwice, Poland, and Demonstration Plant in East London, South Africa, are led by women. Therefore, to celebrate International Women's Day, we want to spotlight Vuyo Sikwebu, General Manager for Africa, and Daria Frączak, Research & Development Manager. Combining their expertise in technology and science, both managers reflect on Clariter's process.
Vuyo Sikwebu: "Our technology is cutting edge, disruptive and a world-first concept. Other developments in waste treatment technology that focus on waste to energy are limited to a single product with limited quality and flexibility. For those who rely on crude oil, it is crucial that substitutes and derivatives are found. Moreover, natural resources of crude oil are limited, and oil extraction has become more and more expensive. Our unique differentiator and business strategy are that we turn the plastic waste challenge into value for humanity".  
Daria Frączak: "Clariter is a chemical recycler, meaning that the company's solution is based on waste that undergoes a chemical process to obtain valuable products. It consists of methods known in the chemical sector: cracking of polymer chains in plastics, hydrotreating the resulting hydrocarbons, distillation into individual fractions. However, what sounds so straightforward is not that simple. From a chemical point of view, cracking and hydrotreating are very complex processes, consisting of diverse reactions running concurrently or competing with each other. It took years of experience, testing and failures to select the optimal parameters for the raw materials (which are variable) as well as for high-quality and pure products. Let's think about how many years the refining and petrochemical industries have existed, how many years they have been developed, and how much research is still being done for optimising the methods applied there. At Clariter, we are not only concerned with refinery processes but additionally with the production of "synthetic crude oil". This represents a new and exciting path to hydrocarbon production that contributes to reduced waste and improved environmental quality".
Vuyo and Daria lead local teams in East London, South Africa and Gliwice, Poland. When asked about their leadership experiences and priorities, Vuyo responded: "My day-to-day work at the moment revolves around how we can continue to improve the safety of the Industrial-scale Plant (ISP). This is a collaborative effort with the ISP team and global teams. Coming mainly from the petrochemical industry in South Africa, East London's team is diverse, dynamic and university qualified. This group holds the future of Clariter's full-scale plants by making sure Industrial-scale Plant operates accordingly. I am most proud and grateful to have them because I know they will make it work. My staff is characterised by a team of professionals who want to be part of history and contribute positively to our vision".
Describing her team, Daria said: "The Gliwice team is a fascinating group with various experiences, knowledge and personalities. All employees are technical university graduates who are actively involved in the projects, paying attention to details, conscientious and trustworthy. An interesting fact is that exactly half of our team are women! At work, we enjoy a friendly, family-like atmosphere. On the one hand, these are professionals in every way, who are not afraid to take on challenging and unusual tasks. At the same time, we are a group of people who like each other, can communicate, and spend time together. I am proud of my team. I can hardly imagine a better one".
Both plant leaders also expressed their views on the growth prospects of the company and their local workplaces.
Vuyo Sikwebu: "Clariter is history in the making! The global teams from all countries, and all levels are smart people who share Clariter's vision of turning a global problem into a sustainable solution. Every day is a learning experience. There are only a few moments in life when one can say he or she was part of a journey where a unique world-class concept was developed and implemented. That alone is a rare opportunity. Of course, at Industrial-scale Plant, there are development prospects for staff to be part of Full-scale Plant implementations".
Daria Frączak: "It is a crucial moment for Clariter. We strive to do a lot of testing and research, refining details, optimising processes and improving products. In parallel, we are working on Full-scale Plant projects for several locations at once. This requires not only time and commitment but also a moment of reflection to make final decisions about the technology development strategy. We all feel the time pressure. However, I do my best to put particular emphasis on the quality of research, reliability of results, and flexible but consistent realisation of the assumed research plans, both in Gliwice and in East London. Going forward, we do not intend to stop. We aim to further optimise our processes, search for new, enhanced solutions and test various applications for our products. This will continue to be a busy but also fascinating time for the entire company".
About the Leaders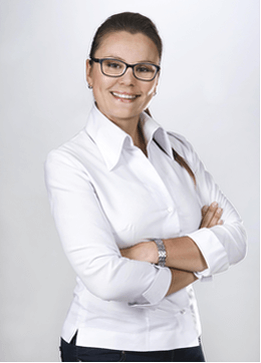 Daria Frączak is a top Research & Development (R&D) professional with more than a decade of experience in R&D, petrochemistry and technology, and process & product development. She has a solid understanding of chemical processes & engineering, solving R&D issues, troubleshooting, presenting and influencing effectively at all levels of the organisation, including senior and executive levels, as well as to external audiences. She joined Clariter in 2008 as R&D Manager and has conducted research and successfully implemented new developments within the Clariter Group. Daria manages a team of scientists as well as key personnel in Poland and South Africa.
Vuyo on Daria: "Daria is one of the most professional, meticulous and reliable people I've been privileged and proud to work with. She embodies all the characteristics that are necessary for a scientist. I enjoy her analytical skills – Daria has this brilliant ability when analysing data, to not only interrogate information at hand but also question the missing information. She projects a very professional demeanour but also has a great sense of humour and is balanced. To lead effectively, one needs to find balance".
Vuyo Sikwebu is an executive with more than two decades of professional experience in management, conception, development, and executing strategies and initiatives that drive revenues, growth, profits and shareholder value. She joined Clariter in 2016 as Managing Director of Clariter South Africa. She is responsible for managing Clariter South Africa, including the operations' supervision at Clariter's first Industrial-scale Plant and cooperation with the Industrial Development Corporation, Clariter's joint-venture partner in South Africa.
Daria on Vuyo: "Vuyo took on the challenging task of managing an entire Industrial-scale Plant project in South Africa – a project to build, launch and operate the first installation of the world's only and completely new technology. And she has been doing great! She is a person of excellent manners, incredibly polite and calm, but firm and stands up for her employees. Vuyo is very committed and dedicated to her duties. Working with her is a real pleasure."