ClariProducts
High-quality green alternatives to petrochemicals
Our patented technology transforms plastic waste into high-value waxes, oils, and solvents that are an alternative to fossil-based products. Free from sulfur, double-bonds, aromatics, color, and impurities, they can be used for endless industrial and consumer applications.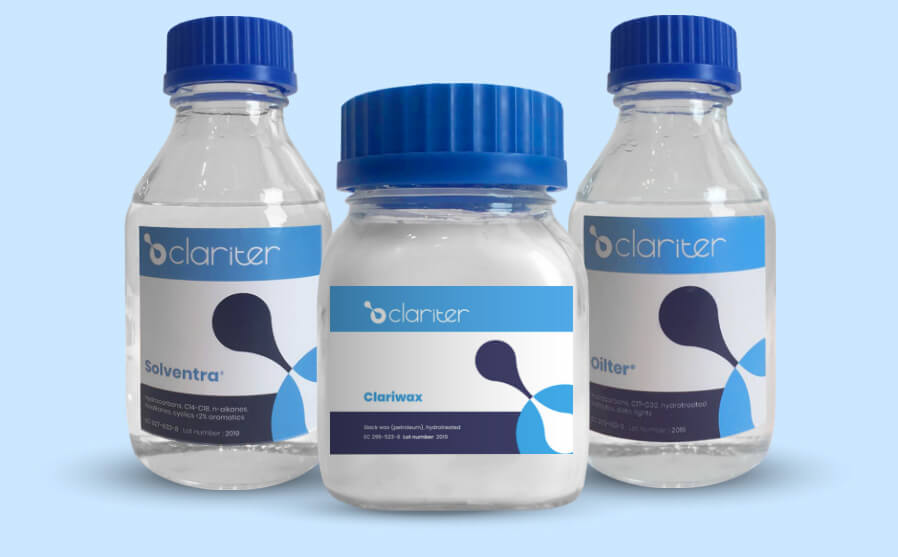 Solventra®
Our non-aromatic aliphatic solvent family
Solventra can be used to make consumer products such as cleaning products and cosmetics, and industrial products such as paint and inks.
Clariwax®
Our snow-white paraffin wax family
Clariwax can be used to make products such as car and floor wax, shoe polish, candles, crayons, and more.
Oilter®
Our white mineral oil family
Oilter can be used to make baby oil, wood polish, hair products, lubricants, and more.
Quality. Sustainability. Value.
Clean
Free from sulfur, nitrogen, and chlorides; ClariProducts are odorless and colorless.
High quality
ClariProducts perform flawlessly in tests, meet high industry and FDA purity standards, and are food-contact-grade.
Sustainable
ClariProducts are perfect alternatives to fossil-based products.
Perfect replacements
Do not require manufacturers to change their production lines when switching away from fossil-based petrochemicals and, being 100% recycled, mitigate the impact of crude oil price volatility.
Can be used in over 1,000 industrial and consumer applications
Made with Clariter™ – your green signature
Clariter enables manufacturers to make a positive change and go greener.
By using ClariProducts in their products, they decrease their carbon footprint and increase their recycled content.
ClariProducts are high-quality and high-value – meeting the highest industry and having equal or superior quality to fossil-based petrochemicals.
Setting new standards of quality, sustainability, and positive long-term impact, ClariProducts are petrochemicals without the petro.